SEGMENTED SYSTEMS
Segmented panels offer a whole new world of elegant aesthetics and brilliant functionality. Customize the panels to incorporate exactly the tools you need for your workflow.
Here's a quick list of tools to add to your system:
tackable & non-tackable segments
magnetic & non-magnetic markerboards
tool rails
cool laminate segments
Just like the Monolithic panels, our Segmented Panels are also ideal for a range of applications, from executive and professional workspaces, to open plan collaborative team environments.
Tough construction means it will stand the test of time and deliver the performance you expect.
Available in a range of design configurations!
Combine Monolithic panels and Segmented panels
to create a workspace that combines the best of both worlds!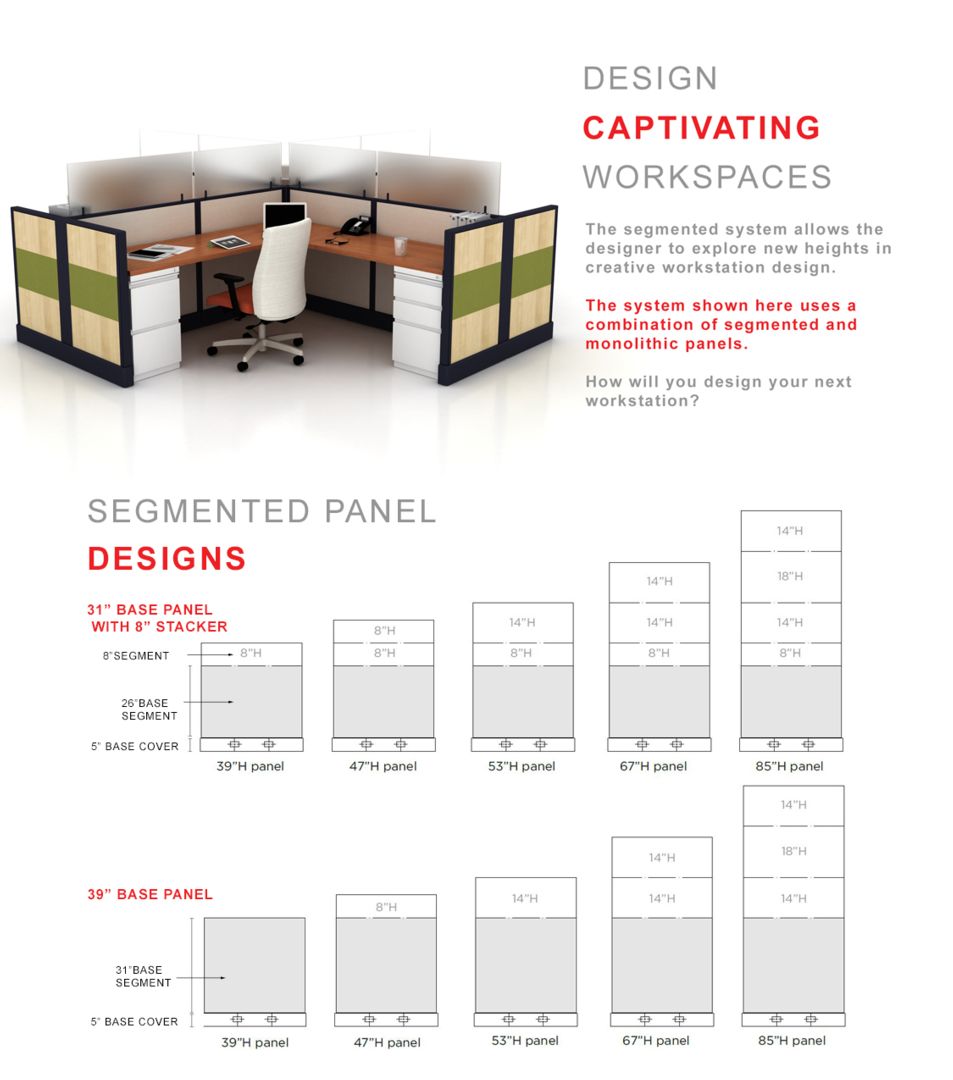 Panel Dimensions
Non-Tackable Fabric covered Panels and Laminate Panels
Height: 32, 39, 47, 53, 62, 67, and 85 (inches)
Width: 12, 18, 24, 30, 36, 42, 48, and 60 (inches)
Depth: 2 (inches)
Raceway depth: 3.5 (inches)
Tackable Acoustical Panels (Fabric)
Height: 39, 47, 53, 62, 67, and 85 (inches)
Width: 12, 18, 24, 30, 36, 42, 48, and 60 (inches)
Depth: 2 (inches)
Raceway depth: 3.5 (inches)
Partially Glazed Panels
Height: 53, 67, and 85 (inches)
Width: 24, 30, 36, 42, 48, and 60 (inches)
Depth: 2 (inches)
Raceway depth: 3.5 (inches)
Electrical/Technical
Pre-installed 8 wire, 4 - 20 amp circuits at the base of the panels, with easy connections
Floor or ceiling connectivity
Cable lay-in capability - large 5" high by 2.5" wide base with hinged base covers allow for large quantities of cables
Upward of 70 Cat 5 cables in powered base, 100 cables in non-powered base